Mango Tree Residences - LOCATION
Mango Tree Residences is Located at Paterno, San Juan City, Manila

As mentioned above, Mango Tree Residences is located in Peterno St. corner Ledesma in San Juan City, Metro Manila. If you look at the map's perspective, you will find that this property is surrounded by many key buildings and other locations within San Juan. Hence, it is the ideal place to live in for those who are working or studying in San Juan. You do not have to worry about the stress and chaos of the city, too, since the moment you step into this condominium building, you can relish a sense of quiet privacy with its low-density master-planned layout.
The location of Mango Tree Residences is therefore one of the most important features you can enjoy. Even though this building is located at a prime spot in San Juan, it is still within a residential area; hence, you can enjoy peace and quiet, as well as a sense of solitude within this residential building.  In today's modern families, city living is important to save time from traveling to and from work, or when sending your kids to school. All of these problems can be addressed the moment you move into the Mango Tree Residences there are several good schools, malls, and corporate buildings within 5 kilometers or less.
Speaking of schools, Mango Tree Residences is located within a few minutes away from the best schools in Metro Manila, particularly in San Juan City. The following schools and universities are within 5 minutes from the condominium: Xavier School, Immaculate Conception Academy, La Salle Greenhills, and Poveda. Meanwhile, there are also several top universities for those who are taking up a bachelor's degree, which includes UP Diliman, Ateneo de Manila University, and Miriam College.
The location of this condominium close to LRT 2's J. Ruiz station also makes other parts of Metro Manila fairly accessible. This is therefore the main choice of public transport for residents within the area. Even if you work or study in other parts of Metro Manila, a quick access to the LRT station will take you there within minutes.
For your entertainment and leisure purposes, Mango Tree Residences is located within a stone's throw away from some of the notable shopping malls and entertainment hubs in San Juan City. First off, there is Araneta Center, which is only about 3.8 kilometers away from Mango Tree Residences. Eastwood City is also located nearby for those looking for more entertainment options and activities. If you are looking for other shopping centers and malls, you can go to Megamall, Greenhills Shopping Center, The Podium, or the Shangri-La Mall.
Xavier School
St. Paul University
Immaculate Conception Academy
Cardinal Santos Medical Center
Lasalle Greenhills
Mount Carmel Church
Greenhills Shopping Center
Broadway Centrum
Robinsons Magnolia.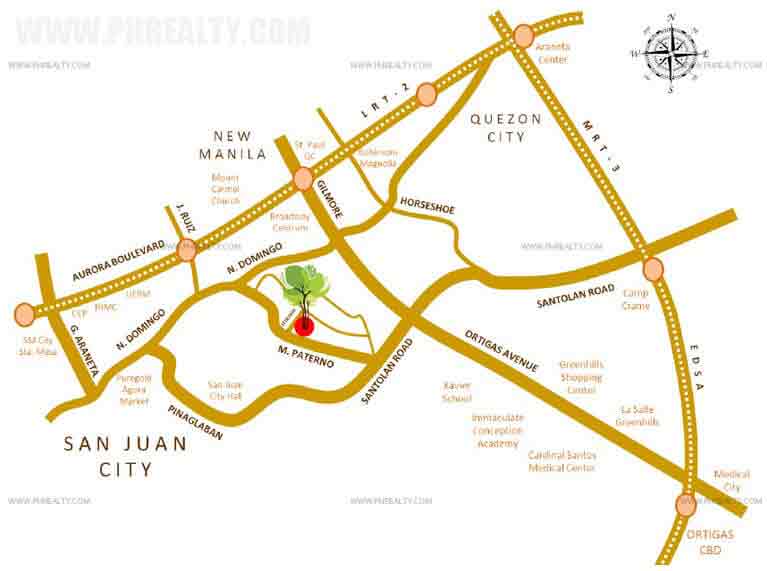 For the corporate and business professionals, Mango Tree Residences is also surrounded by or located close to central business districts in Metro Manila. The Makati Business District and Ortigas Center are located within a few minutes' drive away. In addition, there are several sub-roads and shortcuts available that makes it easier to access other parts of Metro Manila from San Juan City. There are more notable landmarks and facilities near Mango Tree Residences to meet your basic needs. Here are some of them: Mount Carmel Church, Cardinal Santos Medical Center, and San Juan Medical Center.